Product Name
Arista EOS CloudVision
Description
Overview
EOS CloudVision is a network-wide approach for workload orchestration, workflow automation and real-time telemetry as a turnkey solution for cloud networking. CloudVision's abstraction of the physical network to the broader, network-wide perspective allows a more efficient approach for several operational and network telemetry use-cases, including the following highlights:

* Centralized representation of distributed network state, allowing for a single point of integration and network-wide visibility and analytics
* Controller agnostic support for physical and virtual workload orchestration through open APIs such as OVSDB, JSON and OpenStack plugins
* Turnkey automation for initial and ongoing zero-touch provisioning, configuration management and network-wide change management, including automated upgrades, network rollback and network snapshots
* Compliance Dashboard for security, audit and patch management
* Real-time streaming for telemetry and network analytics, a modern approach to replace legacy polling per device
* State Repository, Analytics engines and Telemetry Apps to provide an unprecedented level of granularity in real-time monitoring and historic network state for forensic troubleshooting
* Cloud Tracer for visibility into the availability of network interconnects and services across private, public and hybrid cloud environments
* Macro-Segmentation Service provides automated and seamless service insertion and integration with partner security platforms

Arista EOS CloudVision is the platform for deeper integration with a broad array of Arista's ecosystem partner solutions, including VMWare NSXTM, Hewlett Packard Enterprise, Palo Alto Networks, Checkpoint, Fortinet, ServiceNow, Red Hat, Linux Foundation, and many others.

To learn more about EOS CloudVision's capabilities, watch our video or read the data sheet.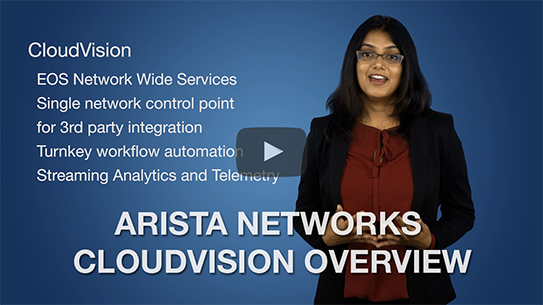 Company Associations
Glossary Associations
Index Associations